Ever thought of a domain name for a website you were dying to launch and then found out that the domain name was already taken? Well, most people looking to own websites have. Luckily, GoDaddy Domain Auctions was established to make sure that you do not have to go back to the drawing board to come up with a new name or settle for a less fitting name for your website. GoDaddy Auctions, a service the company aptly refers to as the Domain Name Aftermarket, allows you to buy and sell currently registered domain names at a price of your choosing.
Strikingly is a website builder best for those looking to setup a gorgeous, clean and clutter-free, modern website without any coding skills, it is one of the easiest and simplest tools on the web to launch a website in minutes. Although it offers an option for a single & multiple page styles, it's strengths are in its single page designs.
A Single Page website aims to provide the minimum amount of information for users to make a decision and act upon. These websites aim to remove as much "confusion" as possible, focusing the user's attention to the most important content.
For a regular multiple page website, with full blogging options, a large web-store and a site with lots of content, you might want to try other options such as WordPress or Shopify (which are a little more complex). If what you are looking for is a gorgeous, single page, mobile-friendly website you can make easily and quickly in a simple and stylish manner, then you'll want to check out Strikingly
Strikingly also supports website owners globally and in different languages
Try Strikingly With a Risk-Free 14-Day Free Trial
Table of Contents:
User Experience
Easy To Use:
I've got to say, the user experience with Strikingly is one of the best available today. Right from the start page, there is a three-step signup (First Name, Email & Create Password) form to get new users building their websites immediately.
However, if the signup process isn't your preferred option, then you can complete the process by linking your social media (Facebook or Linkedin) account, and in a few clicks, you are in! You do not even need to have any coding or design experience whatsoever; you can click on anything to edit, and publish instantly.
Navigation & Setup:
The site is very clean (few words) and straight to the point, it's almost easier than creating a Facebook Page. On the start-up page, you are given a number of template options based on your personal or business category, which saves you the time of trying out multiple template options. Your website is built by simply adding sections (which are customizable to an extent); using an engaging editor that makes the process of web creation fun.
Templates come with a number of unique sections and the only way to find out which has exactly what you need is by trial. Previously, changes made on your site are lost when templates are switched, but The new version of Strikingly comes with the Template Switcher feature that lets you try different templates without losing the work you have already put into your site.

Features
Custom Domain:
With the "Limited" and "Pro" package, a custom domain option is available, you can register a new domain name or use one you already own. Unfortunately, this option is not available with the Free plan.
Blog:
Considering the fact that Strikingly was not built as a blog creation website, it handles this pretty well. The blog section appears on a separate page and the design of your blog is slightly different depending on your template choice. On the downside, when it comes to posting a blog, you can save drafts but you can't set a post to publish at specified date and time the way you can with other options (Squarespace and Wix).
Ecommerce:
You can set up a quick ecommerce section, but the process has been made so simple and easy that it comes with some flaws. There are no product categories and the email notification your customers receive after a purchase cannot be customised.
Apart from the above flaws, it gets the job done. It provides the platform to sell your products/services, links your account to various payment options such as Paypal, and provides a section for shipping details.
Furthermore, this service is only suitable for small businesses, as you can only sell one product on the Free plan, up to 5 on the Limited plan and up to 100 products on the Pro plan.
Cross-platform ready: PC, Mobile, Tablet:
Strikingly offers a seamless transition from web to Mobile, as well as tablet view, there is also a mobile app available on the Apple and Android store to allow users edit and build their site directly from their phones.
Social Sharing Integration:
Strikingly allows you to have a Social Feed on your website. Add your social media accounts, and you can also write preferred tweets for people to share your blog posts and content.
Site Stats:
The Setting window has an option that navigates to your unique site views, it also shows you the country where your traffic has been originated from. For a more advanced analytical report, it's pretty easy to add a Google Analytics tracking number to each page on the Settings/Services panel, if you're after more detailed user profiling.

Templates
Strikingly offers 12 business templates, 6 startup templates, 8 personal templates including a one-click website (creating a personal website using your LinkedIn details), 4 portfolio templates, 3 blog templates, and 4 store template options.

Client Support System
The client support system on Strikingly is also very responsive (when I send a message to the "happiness" team, I get feedback in less than 15mins). There is a question mark sign at the bottom right of the screen, which when clicked brings up a pop-up chat option to send your message to someone in the happiness team; who will get back to you via email.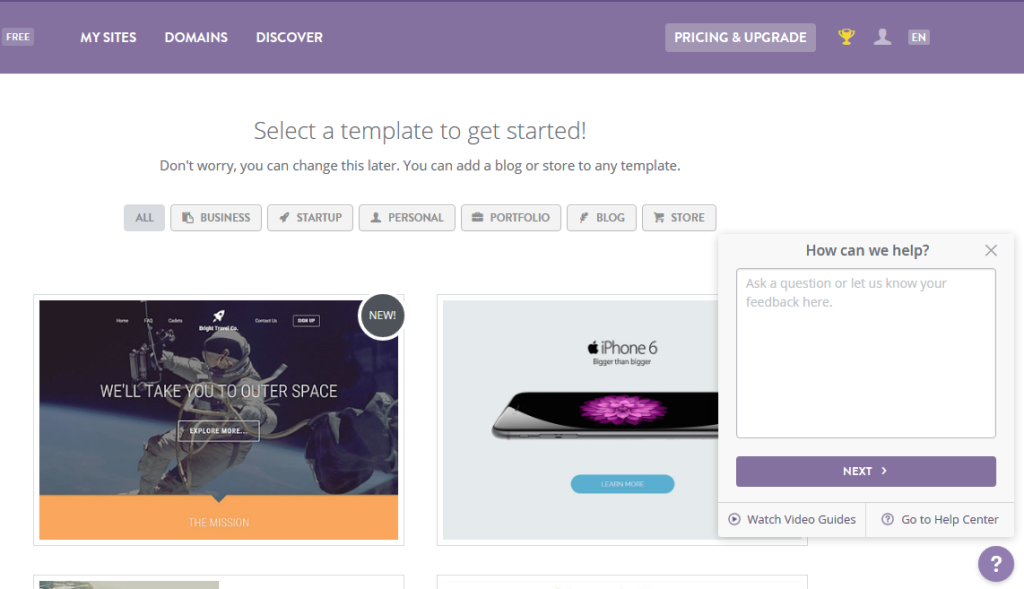 You could also have someone in the happiness team help you build a more comprehensive site design, customized specifically to your needs. If you would rather prefer a do it myself option, then Strikingly has an extensive help and FAQ section, with over a dozen categories on everything from mobile features to eCommerce.

Pricing
Strikingly comes with a highly competitive subscription plans has, it currently offers 3 plans you can subscribe to, each one catering to different budgets and needs.
Free Plan:
This option gives you a lifetime free service, but you don't get a custom domain, it is also restricted to one product per site.
Limited ($8/month):
With this option, you can connect a custom domain and have a simple store with up to five products per site (with 2 limited sites). Depending on which payment method you chose, you can also get a free domain and email for one or two years. It also offers 50GB monthly bandwidth
Try the Limited Plan With a Risk-Free 14-Day Free Trial
Pro ($16/month):
For just $16, the pro option gives you everything you get with the limited plan and a lot more. This option comes with 3 pro sites, more products, and multiple pages, custom domain, unlimited bandwidth and Free domain with yearly plan. You even get to invite collaborators to individually update and make changes to the site. Furthermore, all plans come with a 14-day trial, which gives you the option to preview what each plan has to offer before committing to a subscription.
Try the Pro Plan With a Risk-Free 14-Day Free Trial
You could also save up some bucks by taking advantage of its referral packages; you can get up to 12 months of free services with every new subscriber you get.
In conclusion, when looking for the best website builder, Strikingly is above the rest when it comes to simplicity and getting the work done.
Sign Up Here and Get $48 off the yearly Plan
What is Godaddy Private Domain Registration?
Godaddy Private Domain is an Internet WHOIS privacy service, that is offered by Godaddy that enables its users to register a domain without revealing their personal information. The personal information of its users is protected by Godaddy's affiliate company – Domains By Proxy. In addition to the registrar account offered by Godaddy, users are offered a separate account for managing their private registration, this enables them to have two powerful and unique layers of protection. The service was launched in 2002 and was the first ever on the Internet.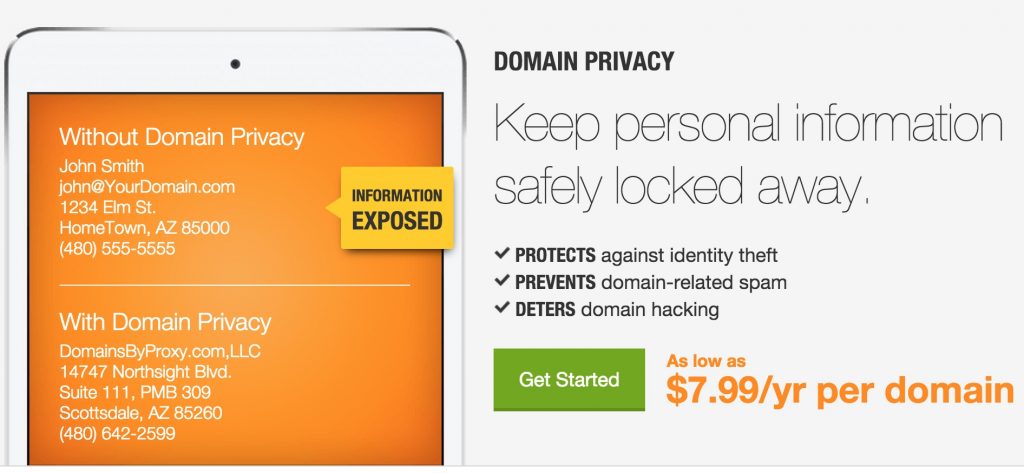 What is the Godaddy Private Domain Registration Process?
1. Go to the following webpage https://buyerlinkage.com/visit/godaddy/domainaddon/private-registration.aspx.
2. On the webpage enter the domain name that you want to register, and then select a suitable domain name extension from the provided list.
Note :If the domain name that you requested has already been registered, you will be provided with available alternatives. For example, you may be able to select a .ws or .info domain extension, rather than the .com domain extension.
3. Click GO.
4. In the next step, to request Godaddy private domain select either privacy protection or privacy protection & business protection.
Benefits of privacy protection
i. Protects your personal information and hides your identity from WHOIS searches.
ii. Helps in stopping domain hijacking.
iii. Helps prevent domain related spam.
iv. Helps in protecting you from harassers and stalkers.
v. Your personal information is hidden – phone number, e-mail, and name – from public view in the WHOIS directory.
Benefits of privacy & business protection
i. Protects your personal information and shields your domain name from misuse.
ii. Privacy hides your personal information from being viewed by the public in the WHOIS directory.
iii. The protected registration process protects from malicious domain transfer and expiration.
iv. The certified domain ownership proves to visitors of your website that its ownership is valid.
v. The business registration creates an internet business card in the who is directory.
5. You will be given an option of choosing hosting and website builder services.
6. You are then given the option of adding e-mail to your domain. For example [email protected] You will be given two options either business e-mail or unlimited business email.
Benefits of business e-mail
i. 2GB storage.
ii. 1GB Cloud storage.
iii. Group calender.
iv. 5 addresses.
Benefits of unlimited business e-mail
i. 10 addresses
ii. Unlimited storage
iii. 1 GB cloud storage
iv. Group calender
7. You can then checkout.
Note:
i. The the total price of the Godaddy private registration includes ICANN ( Internet Corporation for Assigned Names and Numbers) fees. ICANN is the governing body of domain names, it requires contact information that is valid (technical registrant, administrative, and billing).
ii. If you enter false information the domain name you selected could be canceled.
iii. If you wish, you may request for an Extended Validation (EV) SSL certificate for your privately-registered domain name.
Who Should Use Godaddy Private Domain Registration?
Anyone wishing to register a domain name and also wants to protect himself from threats to his or her online security should use Godaddy private domain. Potential threats include identity theft, ,spam, stalkers, and harrasment.
Advantages of Godaddy Private domain registration
1. Stop domain-related spam – If you haven't used private domain registration spammers may infiltrate the email system of your business – causing problems for both you and your customers. Telemarketers also scour the WHOIS database looking for phone numbers to add to their own phone lists.
2. End data mining.
3. Block stalkers and harassers – Godaddy private domain service hides your contact information during the expiration period of your domain name to protect you from being harassed and stalked.
4. Maintain the privacy of you and your family.
5. Protect your identity – Anyone trying to know your identity for nefarious purposes will only be able to see your proxy service (Domain By Proxy) postal address, phone number and name – they will not be able to view your personal information.
6. Prevent your domain name from being hijacked. If you do not protect your domain and someone steals your domain, he or she can use it to spread malware, facilitate scams, relay spam and fraudulent information, or even for worse activities.
7. Shield your legitimate business endeavors.
8. You will retain full control of your domain – You can sell, cancel, transfer or renew your domain, set-up name servers for your domain and also resolve any disputes that involve your domain.
9. You will be able to control and manage all email that are addressed to your domain, as well as your domain's contact information, with the Domains By Proxy's patented email handling and registration systems.
10. Godaddy will always keep you well informed and send you warning notifications when your Domains are near their expiring date.
11. GoDaddy always offers some great discounts, for example when you buy a .com domain name you will get a .info for free, you will also e offered a coupon code that you can use to reduce the price of your Godaddy private registration fees.