What is Godaddy Private Domain Registration?
Godaddy Private Domain is an Internet WHOIS privacy service, that is offered by Godaddy that enables its users to register a domain without revealing their personal information. The personal information of its users is protected by Godaddy's affiliate company – Domains By Proxy. In addition to the registrar account offered by Godaddy, users are offered a separate account for managing their private registration, this enables them to have two powerful and unique layers of protection. The service was launched in 2002 and was the first ever on the Internet.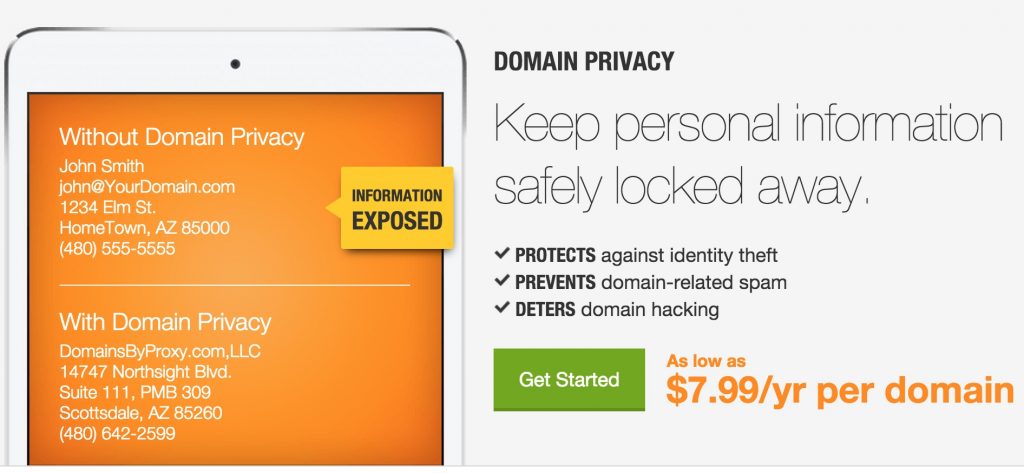 What is the Godaddy Private Domain Registration Process?
1. Go to the following webpage https://buyerlinkage.com/visit/godaddy/domainaddon/private-registration.aspx.
2. On the webpage enter the domain name that you want to register, and then select a suitable domain name extension from the provided list.
Note :If the domain name that you requested has already been registered, you will be provided with available alternatives. For example, you may be able to select a .ws or .info domain extension, rather than the .com domain extension.
3. Click GO.
4. In the next step, to request Godaddy private domain select either privacy protection or privacy protection & business protection.
Benefits of privacy protection
i. Protects your personal information and hides your identity from WHOIS searches.
ii. Helps in stopping domain hijacking.
iii. Helps prevent domain related spam.
iv. Helps in protecting you from harassers and stalkers.
v. Your personal information is hidden – phone number, e-mail, and name – from public view in the WHOIS directory.
Benefits of privacy & business protection
i. Protects your personal information and shields your domain name from misuse.
ii. Privacy hides your personal information from being viewed by the public in the WHOIS directory.
iii. The protected registration process protects from malicious domain transfer and expiration.
iv. The certified domain ownership proves to visitors of your website that its ownership is valid.
v. The business registration creates an internet business card in the who is directory.
5. You will be given an option of choosing hosting and website builder services.
6. You are then given the option of adding e-mail to your domain. For example you@yourdomainname.com. You will be given two options either business e-mail or unlimited business email.
Benefits of business e-mail
i. 2GB storage.
ii. 1GB Cloud storage.
iii. Group calender.
iv. 5 addresses.
Benefits of unlimited business e-mail
i. 10 addresses
ii. Unlimited storage
iii. 1 GB cloud storage
iv. Group calender
7. You can then checkout.
Note:
i. The the total price of the Godaddy private registration includes ICANN ( Internet Corporation for Assigned Names and Numbers) fees. ICANN is the governing body of domain names, it requires contact information that is valid (technical registrant, administrative, and billing).
ii. If you enter false information the domain name you selected could be canceled.
iii. If you wish, you may request for an Extended Validation (EV) SSL certificate for your privately-registered domain name.
Who Should Use Godaddy Private Domain Registration?
Anyone wishing to register a domain name and also wants to protect himself from threats to his or her online security should use Godaddy private domain. Potential threats include identity theft, ,spam, stalkers, and harrasment.
Advantages of Godaddy Private domain registration
1. Stop domain-related spam – If you haven't used private domain registration spammers may infiltrate the email system of your business – causing problems for both you and your customers. Telemarketers also scour the WHOIS database looking for phone numbers to add to their own phone lists.
2. End data mining.
3. Block stalkers and harassers – Godaddy private domain service hides your contact information during the expiration period of your domain name to protect you from being harassed and stalked.
4. Maintain the privacy of you and your family.
5. Protect your identity – Anyone trying to know your identity for nefarious purposes will only be able to see your proxy service (Domain By Proxy) postal address, phone number and name – they will not be able to view your personal information.
6. Prevent your domain name from being hijacked. If you do not protect your domain and someone steals your domain, he or she can use it to spread malware, facilitate scams, relay spam and fraudulent information, or even for worse activities.
7. Shield your legitimate business endeavors.
8. You will retain full control of your domain – You can sell, cancel, transfer or renew your domain, set-up name servers for your domain and also resolve any disputes that involve your domain.
9. You will be able to control and manage all email that are addressed to your domain, as well as your domain's contact information, with the Domains By Proxy's patented email handling and registration systems.
10. Godaddy will always keep you well informed and send you warning notifications when your Domains are near their expiring date.
11. GoDaddy always offers some great discounts, for example when you buy a .com domain name you will get a .info for free, you will also e offered a coupon code that you can use to reduce the price of your Godaddy private registration fees.