There's a reason why iPage is literally one of the most popular web hosting companies in the world today. The reason is simple – it has done what very few other companies offering the same service has managed to do. It has stood the test of time.
Very few web hosting companies have actually managed to stay relevant as iPage has and that's saying something when you think about how many of them are actually out there.
Host your blog with iPage today for only $1.99 and get a free domain name
iPage was founded in Boston Massachusetts in 1998 and the company currently offers one of the cheapest domain registration and web hosting services in the market today.
Their platform currently hosts over one million websites and two million domain names in the world today.
iPage is owned by EIG (Endurance International Group) which also hosts BlueHost, Fatcow, HostMonster and many more. So it is safe to say, iPage is in good company.
Pretty impressive, right?
You would think so – that is until you see all the other services iPage provides; then you'd realize 'impressive' doesn't even begin to cover it.
Table of Contents
How iPage Compare to Other Webhosting Companies
What iPage Has To Offer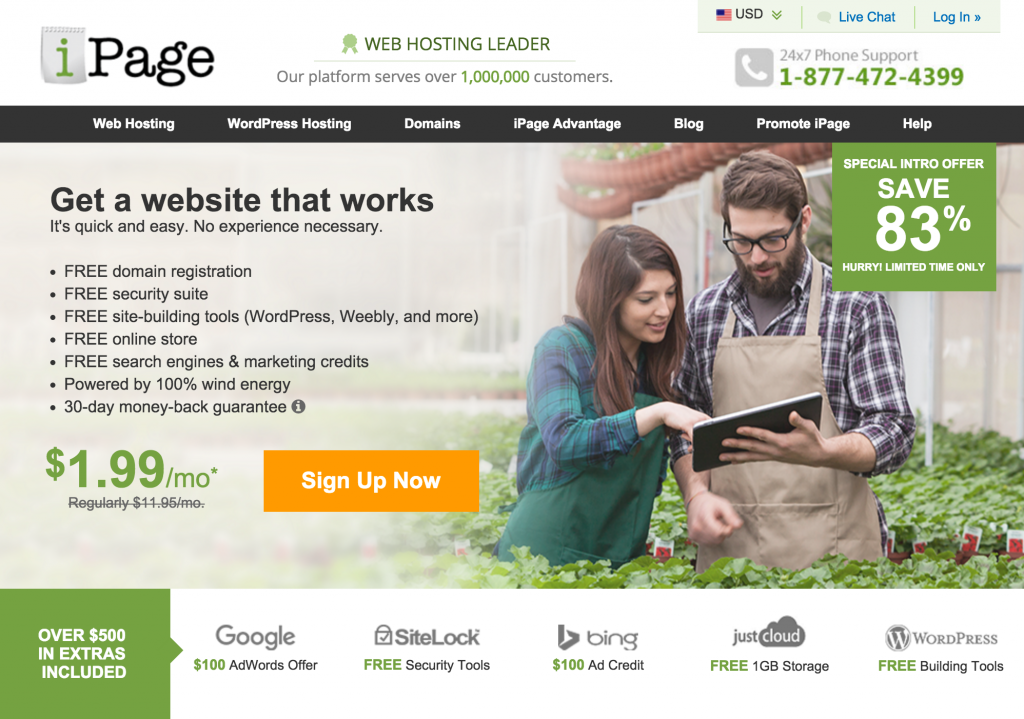 There are a few reasons for iPage's success but one stands to out more than other – its affordability (read more below).
Other reasons why iPage has succeeded where other webhosting services have failed include:
Wide array of tools and services
Easy Site Builder
Site Marketing Services
Free Domain
Online Store For Your Website
Reliability and Support
Speed
Uptime
Security
Read Also: How To Start A Blog in 20 Mins
How iPage Compares To Other Webhosting Services
Here's the thing, almost every other webhosting service you come across offers pretty much the same package: 24/7 supports, free domain, unlimited hosting, webmail and the likes.
Here another thing, very few actually deliver on this.
The fact that affordability has been mentioned a few times cannot be stated enough because while iPage is definitely not the cheapest package out there; it is actually the cheapest package with the kind of quality of service it provides.
You understand what I mean?
I've come to find that most of the packages cheaper than this, offer less quality in services.
Considering the amount of websites and domain it is hosting, as well its uptime – the ability to keep up with reliability and service quality at such a cheap package is no small feat and as such, should not be ignored.
Pros And Cons
Money Back Guarantee (Pro)
I bet you thought the first pro was going to be 'affordability'…well, I'm getting to that.
Many web hosting companies actually offer moneyback policies, but very few actually come through on it.
They rely on loopholes in their fine print to avoid refunding. However, iPage is actually noted for its ability to deliver on this.
If you find yourself unsatisfied with their services, for whatever reason, your money will be refunded.
Round The Clock Support (Pro)
Their customer service support team is always available to answer your questions at literally anytime.
The techs provide step by step support for any kind of problem you'd encounter.
Yes, mistakes happen because no web hosting service is a 100 percent perfect. However what matters is 'recovery' time; and this where their tech guys deliver daily within a reasonable amount of time.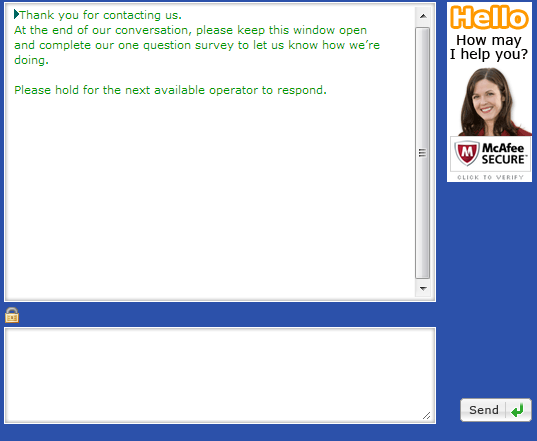 Affordability (Pro)
Webhosting Charges can range anywhere from $3 to $50 a month. However, with iPage –they offer quality services at $1.99 monthly.
I won't lie, this was what got me turned on to the service in the first place.
In this economy?
Thankfully, they delivered quality as well as ease of use with their cost effectiveness.
Read Also: How To Find The Best Themes For Your WordPress Blog
Uptime and Speed (Maybe Con)
The thing about iPage's uptime, I've noticed is that while majority of its users are impressed with it – there's a select few that are not impressed it.
Many seem to not have an issue with the company's uptime, infact they have glowing reviews about it.
While the others seem to sit on the polar opposite end, but it is important to note that the number of these people are significantly lower from the number of those who are for it.
What is more important here is that there is round the clock support to provide speedy solutions for those who have issues with the uptime and speed.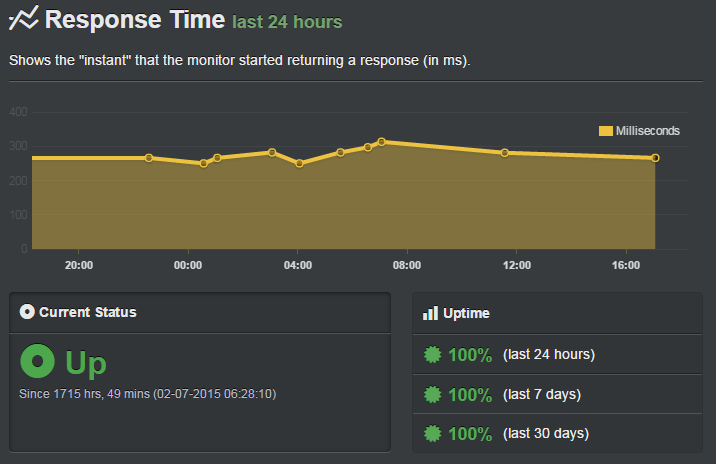 Security (Pro)
Regardless of the hosting plans you choose with iPage, they all come with SiteLock security which protects against malware and security breaches.
However, depending on the plan you chose, you can either be only notified in case of malware or notified and have the malware eliminated for you.
A firewall is also in place to prevent security hacks and leaks.
Daily backups are also done across all their websites to prevent any significant loss of content, just incase.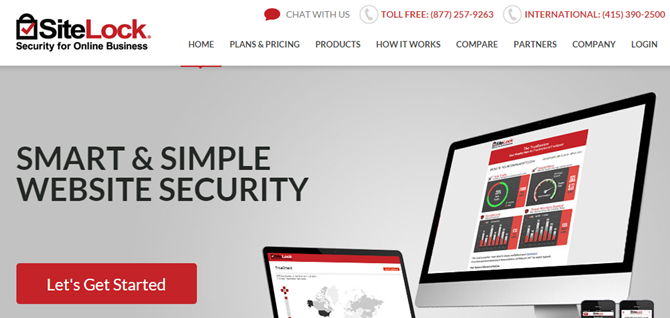 Inbuilt Services
As mentioned earlier – a free domain, an online store, site marketing and promotion (at a fee), variety of plug ins, easy site builder are some of the services that come in with choosing iPage.
It also comes with a free 1GB  cloud storage on JustCloud (a service from their parent company, EIG)
They also offer a File Manager tool that is easy to use and enable the user with uploading and downloading files, as well as creating files from scratch and editing existing ones.
iPage's Mojo Marketplace is connected to the sites 1-Click Installer. The marketplace offers free themes, graphics, logos, plugins and a variety of add-ons.
Best of all, Mojo Marketplace is easy to navigate and the 1-Click Navigator is easy to use.
A $100 Adwords Vouchers is also available to enable you advertise your website immediately.
For more information on how to set up your iPage website…maybe you should watch this:
Customer Reviews
Liz Kukulka from whoishostingthis.com
I have been an iPage customer for 8 years, I picked them because of their extensive list of products and their availability of help! I have not been disappointed! In fact they have exceeded my expectations on both fronts, they continually bring new products to the control panel, many are free some are fee based. Having the products in one location rather than on different sites really makes my work flow much easier and time efficient.

iPage support is second to none, I am not an expert at Web design and I have had many questions, iPage support answers in a timely manner, has capable friendly staff and always takes the time to help me understand the solution!

iPage is perfect for novice to experienced, I recommend them for your web page hosting and design.
Derek Lee from webhostingreviewjam.com
iPage is one of the most affordable web hosting packages that you can see online today. It is a shared hosting service geared towards startups or those wanting to have their own personal web space (apart from their Facebook page).

iPage also receives excellent feedbacks from its users and scores high ratings from thousands of customers. Its wide array of features include unlimited storage space, unlimited bandwidth, free domain name registration and transfer for the first year, one-click web applications installer, an integrated web server, and tons of scripts and other applications you can add on your site with just a few clicks
Conclusion
If you're looking for a free domain provider and web hosting company, iPage is it.
A company that has been around for over decade is only around for one reason – the quality of the services it provides. Not just in web hosting but across all services fields (you can look it up).
With thousands of glowing testimonials, 24/7 customer care and security, options for an online store and site marketing and promotion if you require – for a reasonable fee of course – what could be better than what iPage is offering, at the price it is offering it?
I honestly can't think of anything better, can  you?
Host your blog with iPage today and receive a huge discount and a free domain name