If there's one thing every online business person wants, it's to be at the top spot in the search result. Online businesses are getting more competitive every day as they try different methods to stay relevant in the markets. There is great need to stay relevant in this ever-changing sector. There are important tools that most of these online businesses have used to get higher rankings in search engines and achieve a higher conversion rates. One such tool is the competitive keyword research tool known as SEMrush. Not many keyword research tools are like this one and further discussion about why this is so is detailed below. You will get some insight into some of the most vital aspects of this tool with this respect.
SEMrush Review: Best Keyword Research Tool
What Exactly Is SEMrush?
This is a tool that simply tracks a large amount of the organic data found in Bing and Google SERPs. This tool has allowed many businesses to know where their competitors rank in the top 20 Bing and Google search results for top 106 million and more organic keywords. SEMrush is able to successfully collect data on both the landing page rankings as well as on a domain level for all the keywords tracked. Businesses are therefore able to know the best keywords to use in their online campaigns.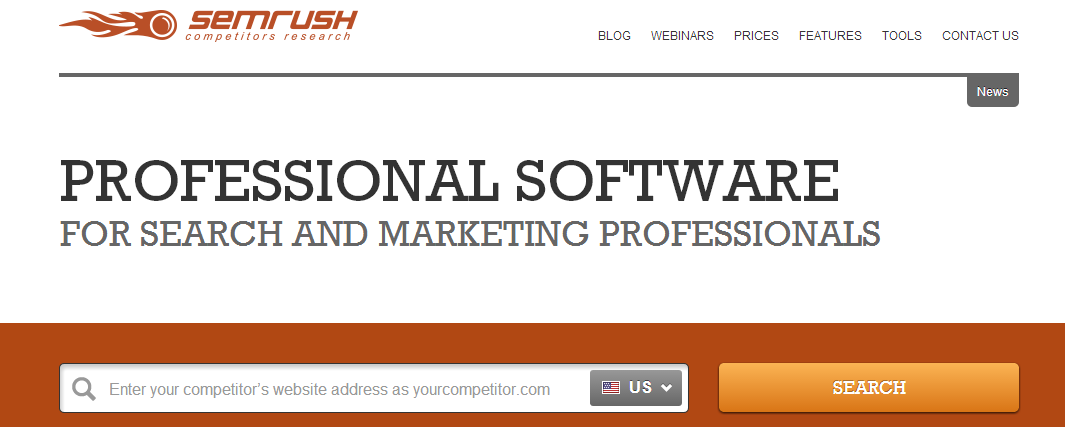 How Does SEMrush Work?
SEMrush has been known to efficiently track different metrics and diverse organic data. With the organic data tracked, a business owner is able to view not only which site ranks for what but also how successful or useful a certain keyword is for a specific domain. The business owner is able to see the exact value of organic traffic to the domain which also allows them to gauge the real worth of the domain.
It is also possible to tell the value of the organic traffic to any specific landing pages on any domain of interest. This will allow one to see the level of popularity of a certain product, service or site is by use of real dollar-value. Such information can come in handy when it comes to planning an online marketing campaign.
How To Use SEMrush
SEMrush is one of the most user-friendly keyword research tools ever and you really don't need a lot of expertise to use it. As long as you can read, then you can use this tool effectively. In this regard, there are no complications to speak about; anyone can do it.
Simply type in your domain of interest into a search box located at the top, then choose your country and click search. A dashboard screen will come up with an overview of the domain's statistics. It first shows you the data from Google but it is still possible to change to Bing and view the same data by making changes at the top left.
You will see an estimate of the domain's paid and organic traffic and their estimated values at the top left. At the right you will view the estimated guess of the domain's search traffic.


You will also see an overview of the domain's organic traffic and paid traffic by country right beneath the chart. You can put your mouse pointer over the graphs in order to get the actual estimates in percentages and numbers. As much as the actual numbers are merely fair estimates, the percentage split is usually very accurate.
You can also view the exportable list of the main keywords which are divided into paid keywords and organic keywords which are the very ones that are driving the traffic to the domain. You can also view the exportable list of the domains that SEMrush has ranked as your business's biggest competitors both in paid and organic search, along with a list of the unique AdWords ad, media ads, text ads and another listing of potential places, ad buyers and sellers.
You will also notice this sidebar that enables you to focus on most of those segments that were visible on the dash plus a few more. It is simply as easy as that.
Next Step: Track Down Your Competition's Progress
As a business, there is no way you can stay ahead of your competitors if you don't know what they are up to. When you notice your competition getting ahead, that is motivation enough to do something about your marketing tactics or any other area that you think will boost your growth or online popularity. However, keeping your competition in your radar will help you know if you are leading the pack and if not what you should do.
SEMrush makes tracking your competitor's progress a lot easier. You can now, with little effort review your competition's ad data by using the detailed and pin-point SEMrush ad data which is very accurate. You can track ads via Bing and Google using SEMrush's diverse metrics and datasets which includes CPC, positions, competition score, ad text, traffic and a lot more. Note that all the data is collected from the ads that every domain is currently running which makes it easier for you as a business to fully plan your campaign based on the most-current and accurate data and values.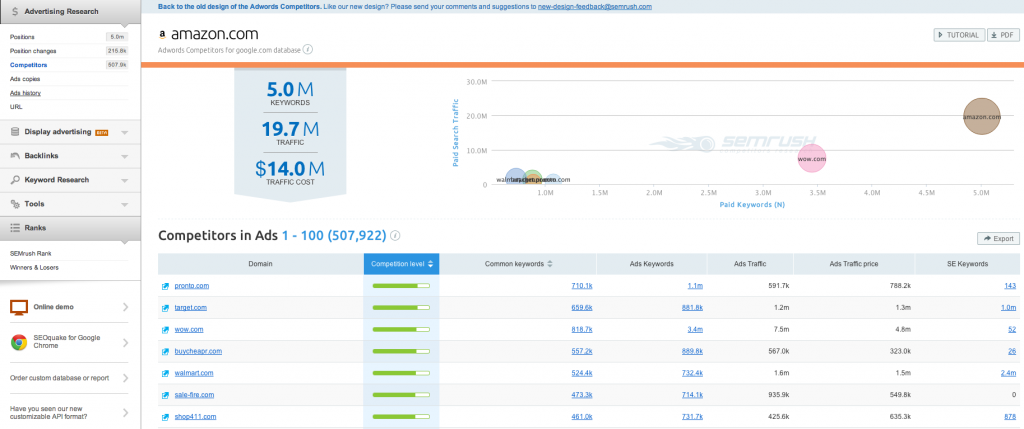 The Best SEO Strategies with SEMrush
Since this tool allows you to easily examine and make comparisons between any website and many others from the millions of domains tracked, it is therefore possible to make comparisons of the organic positions of two sites using common keywords. This will automatically indicate where every domain ranks for every keyword in relation to each other. By doing this you can easily locate any errors in rankings and in the end come up with the best tactics for your business's SEO strategies.
In-Depth Insights
By using SEMrush it is possible to get the actual amount spent on ads by the millions of domains tracked. You can easily find out what a certain domain is spending on ads every month and its exact traffic figures. You can also easily find out what a certain domain spends on every keyword that they use in their ads. Another possibility, is that you can also do an evaluation of what every domain is advertising based on their landing page. This will of course provide you an in-depth view of crucial data that would usually only be accessible by a business's marketing department.
With the great insights that you obtain from the domains you are able to avoid risks by distinguishing the successful products from the ones that will only dent your marketing budget without reaping positive results. This will clearly make you a winner among your competitors.
SEMrush Keyword Research Feature
Keyword research is important for every business that intends to capture the interest of their target audience. SEMrush keyword research feature will enable you to view a report featuring the following:-
– The trend graphing indicating the estimated keyword volume for a phrase over a period of one year.
– The phrase match reports that indicates keywords along with the word phrase
– A report on the related keyword phrase report that indicates the keywords that SEMrush thinks are related to your initial keyword search.
– A list of the sites that are ranked top 20 courtesy of the keyword phrase and their URLS
– A list of the sites that are using the keyword phrase for advertising and the ad history on the phrase if any is available.
It is possible to drill down any of the sub-keywords available in order to get a similar report. With such preciseness when it comes to report generation, the business will therefore find it easier when it comes to conducting the keyword research process. Before launching the keyword campaign, the business is also able to set realistic targets with the right keywords.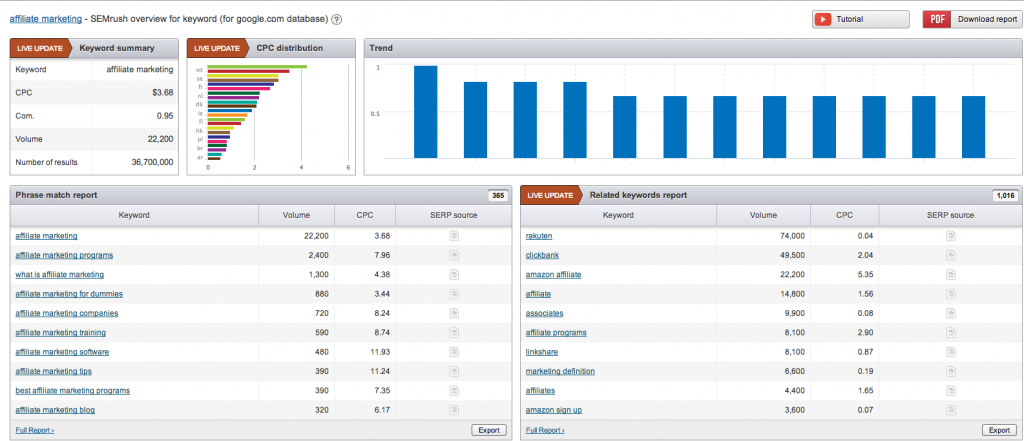 The Only Hitch
The only hitch with the SEMrush keyword research feature is that you can't add keywords to any list. You have only two options; to either keep track of the words by using your own method or to simply export the whole list and then delete the keywords that you don't need. Having the option to delete the unwanted keywords before exporting them would have been nice, but all the same it is just a small hitch, since there is a lot more that this tool offers that is beneficial.
The Pricing And Plans
There are three pricing choices and two plans for SEMRush. The plans are:-
– The Pro Plan
– The Guru Plan
The Pro Plan
This plan costs $79.95 for a full month of access, or $69.95 monthly in case you set up your account to have recurring billing. The Pro Plan is ideal for individual bloggers, consultants or smaller agencies.
Get yourself a SEMrush Pro Plan here
The Guru Plan
For $149 monthly ,this plan will enable one to conduct three sessions simultaneously. It also offers higher limits and efficiently stores the historical data. Its setup uses recurring billing which is very convinient. The other good thing about this plan is that it generates reports that are branded with your company logo.
Get yourself a SEMrush Guru Plan here
Keyword Research To The Next Level
SEMrush will no doubt redefine your keyword research and make it easier and better, you will get useful keywords that will attract your target audience and increase your conversion within a short period. You are able to review the relevant keywords, related keywords and even phrase match them in various separate reports. You will know who ranks and pays for the keywords and more of the keywords that they rank and pay for. This will ensure that you build a strong ccampaign using the features found in SEMrush, that were designed by professionals who have understood the market needs of the modern business.
The viewing and interpretation of the reports generated by this software has often times revealed informative data that could never be found by merely studying statistics. SEMrush creators have simply perfected its charting function for the sole reason of providing accurate and uncomplicated data to the users of this program.
Why SEMrush is The Best
You simply can't do better than SEMrush when looking for a keyword research tool. This is because many keyword tools usually lack adequate data in their databases, something that makes them less useful. However, SEMrush has over 80 million keywords and tracks over 38million domains, a fact that will enable you to get as much accurate information as possible.
SEMrush is also popular in countries other than the United States such as Europe, Brazil, Australia and so on. This allows any online businesses in those countries or those targeting audiences from those countries to take full advantage of it.
The tool is also no doubt very user friendly. You definitely don't need the manuals to know how it functions. In an hour you will have found all the keywords you would need for your website without any frustrating scenarios.
The exporting option of the data generated from this tool to excel is a good thing for many businesses because they can keep records and backups of them for future reference.
Best For Competitor-Conscious Businesses
SEMrush is perfect for companies that need to constantly monitor their competition's progress or frequently research keywords for their online marketing campaigns. It is also a perfect tool for SEM and SEO professionals who are frequently under pressure to deliver keyword research services to demanding clients or any potential clients.
Small business owners can also take advantage of this tool and as much as they won't need it for a full year, they can still benefit when it comes to learning more about their competition and developing their ad campaigns. This is actually the best way for new businesses to learn the markets and gauge just how competitive it is.
Many businesses are realizing the importance of keywords especially in online marketing. Having the best keywords will get you the highest conversions and make you the market leader. Most of them are taking advantage of tools like the SEMrush for their keyword research. However, with very few tools matching up to SEMrush, many businesses often get disappointed when they use the wrong keyword research tools. As much as any other keyword research tool will help, it doesn't actually deliver the way SEMrush does.
Any business owner who has used SEMrush will no doubt be singing its praises and recommending it's use to others. There is nothing more satisfying than knowing how your competition is faring. This will enable you to know their secret weapon which often lies in the keywords they use.