Interserver Coupon codes are promotional codes provided by the company to further reduce the cost of their already competitive hosting services. Such that cost should never be an obstacle to finding a highly trusted and quality hosting provider. You can use these Interserver coupons when ordering a hosting plan from them so as to get a discount on your order.
Interserver Coupon Codes
Get hosting at $0.01 for the first 3 months (VPS and Cloud: $.01 per VPS Slice)
Get 1 slice VPS for 1 cent
Get first month of web hosting for $0.01 (1 cent)
Get 50% off VPS server with this coupon code
SAVE on VPS hosting with this 1 cent Interserver coupon code
Get 50% off on VPS and shared hosting
Get hosting at $0.01 for the first month on openvz VPS
Use this Interserver coupon code to get the first month of shared hosting for $.01.
Interserver Review
Interserver hosting services began in 1999 and their affordable rates in-line to the technology provided is really what sets them apart in the industry. With some tremendous growth over the years, Interserver now owns and operates two data centers located in Secaucus, N.J. providing services such as virtual hosting, cloud VPS, quick servers, dedicated servers, and colocation.
The company started as a virtual hosting account reseller, with an objective to focus on affordable prices while maintaining a high level of service and support.
This review focuses on Interserver hosting services. Furthermore, apart from the rapid improvement in their technology, one thing that has remained the same over the years is their mission to provide quality services at affordable rates to customers worldwide.
Table Of Content:
– Interserver Hosting Services
– What Sets Interserver Apart From The Rest?
Interserver Hosting Services
Interserver currently offers a number of hosting services, which includes the Managed web hosting, Cloud VPS, Reseller hosting, Quick Servers and Dedicated servers hosting.

Managed Web Hosting
The managed web hosting services comes with a 24/7 support team, free website migration and one click installs (with over 380 scripts available). There are three plans provided under the managed web hosting services, they include:
Standard Web Hosting ($5)
Managed WordPress ($8), and
Windows Web Hosting ($5)
Cloud VSP

With the Cloud VSP, you get two options; Linux cloud VPS (starting at $6 per month) and Windows cloud VPS (starting at $10 per month). Both plans come with a variety of options and price range. The price increases depending on your needs for CPU cores, memory, storage, and transfer caps.
Use Special Promo Code below: – To get the Interserver Managed Web Hosting or Cloud VSP at $0.01/mo (for the first month), Apply promo code that shows after you click to open when you make your purchase on interserver.net.
Reseller Hosting
Reseller hosting is a form of web hosting wherein the account owner has the ability to use his or her allotted hard drive space and bandwidth to host websites on behalf of third parties. InterServer's reseller hosting plans starts at just $19.95 per month on the RS One package.

Quick Servers
Interserver Quick Servers are dedicated servers with a 20 minute set up time. The Quick Servers are delivered with the full resources of a dedicated server but run through KVM virtualization.
When you order a Quick Server you get access to the InterServer Management System through the My.interserver.net portal which allows for reboots, reinstall's, and out of band console access through VNC just like the VPS's; except with the full power of a dedicated server.
Quick servers run RAID1, and all the hardware is monitored and managed by InterServer. This service comes with no long-term contracts and excellent pricing. You are in full control, as the choice to Start, stop, upgrade and downgrade are in your hands.

Dedicated Servers
When it comes to dedicated Servers, quality and affordability is the focus area. Their dedicated servers start at only $59 per month and custom Intel-based Dedicated Server configurations are available with up to 128GB Ram.
A dedicated server is completely devoted to your application's sole needs, and not shared with another customer, so you enjoy more performance and flexibility than a shared hosting solution or cloud instance.
The Dedicated Servers Operating Systems include; CentOs, Ubuntu, Gentoo, Redhat Fedora, Cloud Linux and Windows.
Dedicated Server Configuration Options
| | | | |
| --- | --- | --- | --- |
| CPU | MEMORY | HARD DRIVE | MONTHLY FEE |
| Intel Dual-Core Atom | 1 GB | 250 GB | $39 |
| Xeon E3-1230 | 16 GB | 250 GB | $139 |
| 2 x Six-Core E5-2620 | 8 GB | 250 GB | $310 |
What Sets Interserver Apart From The Rest?
Speed:
Interserver uses an intelligent BGPv4 routing protocol; that allows it to route traffic to the closest backbone provider. This reduces the time it takes for a packet of data to get from one designated point to another while increasing speed.
Guaranteed Uptime
Interserver guarantees that the network will be available 99.9% of the time in a given month, excluding scheduled maintenance. If Network Availability does not meet the 99.9% uptime, credits will be made available to each client on a case by case basis, not to exceed 50% of their base monthly fee.
You can hold Interserver to their word if you experience anything less than what has been stated above, though this might not happen anytime soon; as their uptime have been tested and it never falls short.
Price lock guarantee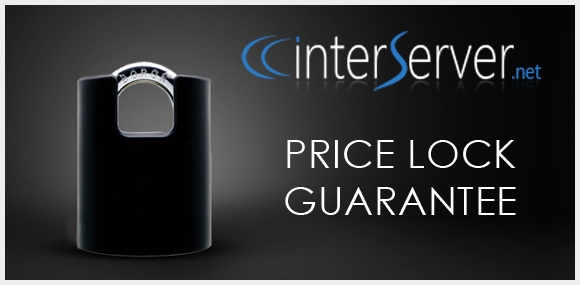 Interserver are true to their word and do not have any hidden tricks up their sleeves; unlike other hosting providers who entice new customers with low pricing for their initial term of service and then increase the rate upon renewal.
Interserver backs its hosting agreements with a clear SLA and transparent Terms of Service that clearly defines every aspect of its services. So the price you start with is exactly what you will pay for the rest of your account life, except special discounts are offered.

Interserver Hosting Flaws
It is practically impossible to find any hosting service with no flaws whatsoever and meets the needs/ expectations of every client/ potential customer. Here are a few areas and decisions made by Interserver, which could be seen as a setback to some, but might not necessarily affect others.
No trial period or money back guarantee
Interserver does not offer a trial period or money back guarantee. All billing is month to month, however, if you are ever unsatisfied with their services you can cancel anytime.
Customer Limits
Interserver only allows 100 new customers a day. As much as this might come as an advantage to existing users (as the company doesn't overload its servers), it could be seen as a disadvantage to new users; who will have to wait another day to subscribe to their services once the daily 100 thresholds are reached.
Limitations in Interserver unlimited hosting
Although InterServer offers "unlimited" features in its shared hosting environments, the unlimited hosting comes with limits ("No single shared hosting account is permitted to use more that 20% of the server resources at a time. A single account is limited to 250,000 nodes at any given time. Clients on the Unlimited SSD shared hosting platform using more than 1GB of space will be moved to SATA" as provided in its Term Of Services).
VPS Hosting Technicalities
Setting up VPS hosting on Interserver is more complicated than expected. Beginners might find it a little difficult and time consuming.

Conclusion  
In conclusion, the technology, performance and customer service by Interserver is great. They go over and beyond to make sure their customers are satisfied and they are very transparent. I recommend Interserver to anyone looking for an effective and efficient web hosting service.