Strikingly is a website builder best for those looking to setup a gorgeous, clean and clutter-free, modern website without any coding skills, it is one of the easiest and simplest tools on the web to launch a website in minutes. Although it offers an option for a single & multiple page styles, it's strengths are in its single page designs.
A Single Page website aims to provide the minimum amount of information for users to make a decision and act upon. These websites aim to remove as much "confusion" as possible, focusing the user's attention to the most important content.
For a regular multiple page website, with full blogging options, a large web-store and a site with lots of content, you might want to try other options such as WordPress or Shopify (which are a little more complex). If what you are looking for is a gorgeous, single page, mobile-friendly website you can make easily and quickly in a simple and stylish manner, then you'll want to check out Strikingly
Strikingly also supports website owners globally and in different languages
Try Strikingly With a Risk-Free 14-Day Free Trial
Table of Contents:
User Experience
Easy To Use:
I've got to say, the user experience with Strikingly is one of the best available today. Right from the start page, there is a three-step signup (First Name, Email & Create Password) form to get new users building their websites immediately.
However, if the signup process isn't your preferred option, then you can complete the process by linking your social media (Facebook or Linkedin) account, and in a few clicks, you are in! You do not even need to have any coding or design experience whatsoever; you can click on anything to edit, and publish instantly.
Navigation & Setup:
The site is very clean (few words) and straight to the point, it's almost easier than creating a Facebook Page. On the start-up page, you are given a number of template options based on your personal or business category, which saves you the time of trying out multiple template options. Your website is built by simply adding sections (which are customizable to an extent); using an engaging editor that makes the process of web creation fun.
Templates come with a number of unique sections and the only way to find out which has exactly what you need is by trial. Previously, changes made on your site are lost when templates are switched, but The new version of Strikingly comes with the Template Switcher feature that lets you try different templates without losing the work you have already put into your site.

Features
Custom Domain:
With the "Limited" and "Pro" package, a custom domain option is available, you can register a new domain name or use one you already own. Unfortunately, this option is not available with the Free plan.
Blog:
Considering the fact that Strikingly was not built as a blog creation website, it handles this pretty well. The blog section appears on a separate page and the design of your blog is slightly different depending on your template choice. On the downside, when it comes to posting a blog, you can save drafts but you can't set a post to publish at specified date and time the way you can with other options (Squarespace and Wix).
Ecommerce:
You can set up a quick ecommerce section, but the process has been made so simple and easy that it comes with some flaws. There are no product categories and the email notification your customers receive after a purchase cannot be customised.
Apart from the above flaws, it gets the job done. It provides the platform to sell your products/services, links your account to various payment options such as Paypal, and provides a section for shipping details.
Furthermore, this service is only suitable for small businesses, as you can only sell one product on the Free plan, up to 5 on the Limited plan and up to 100 products on the Pro plan.
Cross-platform ready: PC, Mobile, Tablet:
Strikingly offers a seamless transition from web to Mobile, as well as tablet view, there is also a mobile app available on the Apple and Android store to allow users edit and build their site directly from their phones.
Social Sharing Integration:
Strikingly allows you to have a Social Feed on your website. Add your social media accounts, and you can also write preferred tweets for people to share your blog posts and content.
Site Stats:
The Setting window has an option that navigates to your unique site views, it also shows you the country where your traffic has been originated from. For a more advanced analytical report, it's pretty easy to add a Google Analytics tracking number to each page on the Settings/Services panel, if you're after more detailed user profiling.

Templates
Strikingly offers 12 business templates, 6 startup templates, 8 personal templates including a one-click website (creating a personal website using your LinkedIn details), 4 portfolio templates, 3 blog templates, and 4 store template options.

Client Support System
The client support system on Strikingly is also very responsive (when I send a message to the "happiness" team, I get feedback in less than 15mins). There is a question mark sign at the bottom right of the screen, which when clicked brings up a pop-up chat option to send your message to someone in the happiness team; who will get back to you via email.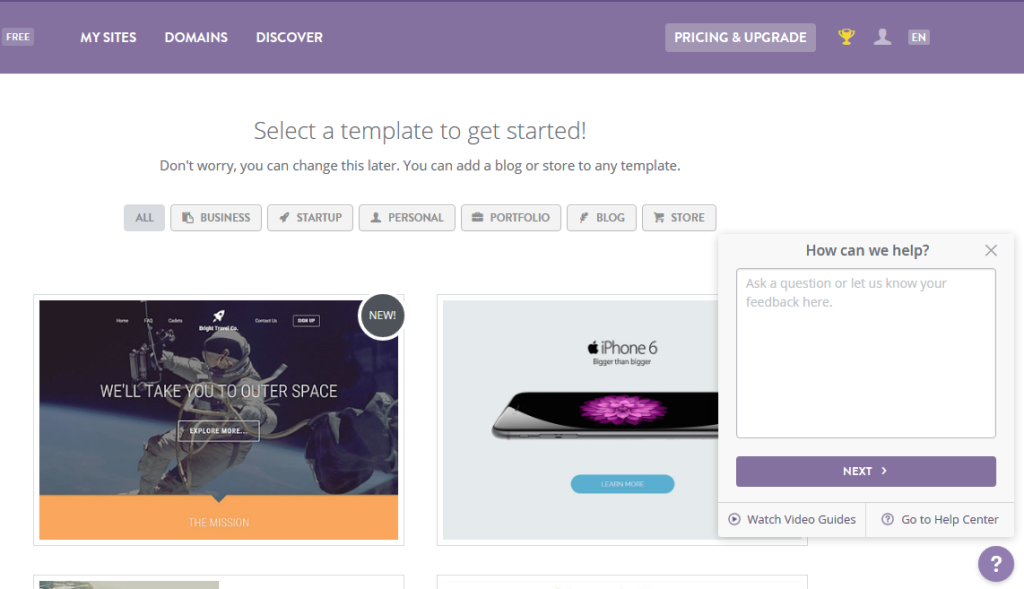 You could also have someone in the happiness team help you build a more comprehensive site design, customized specifically to your needs. If you would rather prefer a do it myself option, then Strikingly has an extensive help and FAQ section, with over a dozen categories on everything from mobile features to eCommerce.

Pricing
Strikingly comes with a highly competitive subscription plans has, it currently offers 3 plans you can subscribe to, each one catering to different budgets and needs.
Free Plan:
This option gives you a lifetime free service, but you don't get a custom domain, it is also restricted to one product per site.
Limited ($8/month):
With this option, you can connect a custom domain and have a simple store with up to five products per site (with 2 limited sites). Depending on which payment method you chose, you can also get a free domain and email for one or two years. It also offers 50GB monthly bandwidth
Try the Limited Plan With a Risk-Free 14-Day Free Trial
Pro ($16/month):
For just $16, the pro option gives you everything you get with the limited plan and a lot more. This option comes with 3 pro sites, more products, and multiple pages, custom domain, unlimited bandwidth and Free domain with yearly plan. You even get to invite collaborators to individually update and make changes to the site. Furthermore, all plans come with a 14-day trial, which gives you the option to preview what each plan has to offer before committing to a subscription.
Try the Pro Plan With a Risk-Free 14-Day Free Trial
You could also save up some bucks by taking advantage of its referral packages; you can get up to 12 months of free services with every new subscriber you get.
In conclusion, when looking for the best website builder, Strikingly is above the rest when it comes to simplicity and getting the work done.
Sign Up Here and Get $48 off the yearly Plan