If you are getting a headache owing to the slow pace of your website in terms of delivering its contents to the visitors, you need to take a close look at MaxCDN. You need a reliable, fast way of delivering content to your apps and websites and MaxCDN can be the right solutions for this issue. In this MaxCDN review we are going to dive into the most important features and benefits of this content delivery network right away.
MaxCDN – Overview
MaxCDN is just a CDN or content deliver network provider that will reduce the latency of content, which means that it will load faster than before using this digital platform. This content delivery network has many servers all around the world that will be used to deliver content quickly. The end-user will get a copy of the files that are closest to his location, so the time that the content will use to load will be reduced.
Find out More about MaxCDN
Who is MaxCDN created for?
MaxCDN has been created for home, office, and consumer users. The MaxCDN line is a rebranding of the CloudCache and HDDN product line since 2013.
Main Features and Benefits
Master Your Domains
You will be able to control and manage your domains easily with the help of the control panel that comes with MaxCDN. There are many interesting updates and statistics that you will be able to view about each one of your domains such as content zones, accounts, reports, percent of cache hit, bandwidth usage, and much more. The reports will show you file size distribution, top fifty files, status codes, hourly breakdown, and much more. Do you need actionable insights of your domains? MaxCDN will give you everything you need and much more. You will be able to read where your visitors come from and who they are among other things – the Log Viewer will provide you this sort of information.
Control How Your Content is Delivered
MaxCDN will allow you to control how your content will be delivered to your website or app. EdgeRules Recipes is the feature that will allow you to change the normal behaviour of CDN. You will be able to include any CORS header, force some HTTPS connections, hide any S3 header, and so forth. Having control of your visitors and digital assets in real time is an advantage that you will enjoy with EdgeRules, for you will be able to create caching rules that are exact defined. What is the result of all this? Bandwidth costs will be under your complete control when you define how the content of your app or website will be served. There is no need for you to have any background knowledge in order to unlock and define the right behaviour for your content.
Custom Results
If you need to get custom results, you can create your very own recipes and add up the simplicity and ease of use you want. You will be able to create security permissions, add or manipulate HTTP headers, deactivate or activate rules and much more.
Security at Its Best
Are you concerned about the security of your website or app? MaxCDN is the solution to this issue thanks to its advanced SSL support. You can even upload your own SSL or install one with just a click of button. MaxCDN handles all the security tasks from its servers, which means fast results and cost-effective solutions right away. The multiple options of a feature called Secure Token will allow you to lock down any sort of CDN content you own. Your links are also time dependent, which means that another layer of security is added to your already secure files. You will be able to set up parameters that will control the security features of your links: time and password. Any sort of content inside your app or website can be set up to expire at a certain point in time. You can even set up your own tokens by editing existing plugins on your own end; MaxCDN support many programming languages such as Ruby, Python and PHP.
More Integration
The MaxCDN's API will allow you to work smarter because you will be able to integrate zones, users and other important resources into any one of your applications. MaxCDN offers you a wealth of SDKs you can use to create your own panel of control so as to gain even more control over the management of your account. The API that comes with MaxCDN will allow you to set up a control panel for your resellers, access your row logs and manage cache, zones, and users. Do you want insights into some reporting sections that are pre-defined? MaxCDN will allow you to do just that, but the Log API access will make you go deeper. The Raw Logs API will allow you to build a lot of custom dashboards for you to display different sorts of data, create custom filters, automate complex reports, and much more. We also have to mention that the API comes with a full documentation, many use cases and useful samples for you to enjoy and take advantage of right away.
Know the Facts
The Analytics feature of MaxCDN will allow you to predict future visitors' behaviour and traffic spikes. You will be able to view any relevant data that has to do with statistics of your websites or apps from this dashboard. There will be detailed information about your traffic, possibility of filtering out unwanted data, and how to make your data work for you. The security reports will provide you information on security breaches, unusual behavior, access restrictions, and much more.
What We Like
Price and Ease of Use
MaxCDN comes at the right price and is very easy to set up. MaxCDN has support for SSL and is very easy to use thanks to its administration interfaces. You will be able to create a Pull Zone that will serve your items without having to upload them.
View MaxCDN's Pricing and Plans
Godsend for WordPress Users
WordPress users can use MaxCDN to get the content they want delivered the right way. These sort of users will get the high performance and availability they need. WordPress users want their sites load quickly, so they tend to use MaxCDN to get this job done. They know that MaxCDN creates copies of their files and put them into different server across the world. The end user will get the file that is closer to his location, which means that the speed of the site or app will increase. The ease of integration of MaxCDN is another important thing that WordPress users take into consideration. They will use either WP Super Cache or W3 Total Cache, which are plugins that will allow them to integrate MaxCDN into their blogs.
Increased Speed and Top-notch Support
Your website or app will load faster because the files will be delivered from the location that is nearest to the end-user. MaxCDN has one of the most professional and capable support teams, and you will see the truth of this statement for yourself. The team knows its stuff, so there is nothing for you to worry about when it comes to customer service. You will avoid going crazy trying to get hold of a customer service representative here – no more bots or dealing with a staff that will tell you the same things over and over again.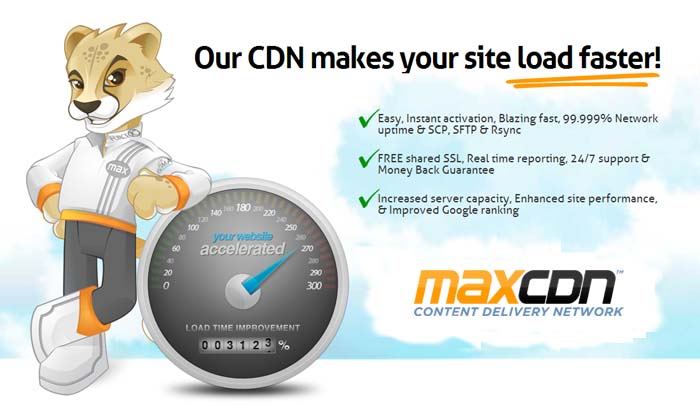 Free Stuff
You will get two months completely free if you buy the annual subscription, which is an amazing gift you can take advantage of right away. MaxCDN also offers you a lot of coupons and discounts, and you will get more information on their website.
Make Money
You will be able to make some good money by promoting MaxCDN whenever and wherever you can. MaxCDN has a high conversion and click-through rate, so you will be safe when promoting this offer to your lists or other people's lists.
Excellent Reviews
Top dogs in the industry are giving MaxCDN excellent reviews, and you need to take this fact into consideration. WP Engine is a very respected website, and they are a partner of MaxCDN. The owner of WP Engine says that MaxCDN has made possible for them to serve files to large websites, which is something that has given them a competitive advantage.
Price and Performance
You will only have to pay $9 per 100GB each and every month, which is affordable for people who want to get the most out of their websites and apps in terms of performance. Do you want a leading solution for your content delivery needs? MaxCDN is the answer to this common yet important question. MaxCDN ranks high in performance tests made by many firms in this industry. When MaxCDN is active, users report an increase in loading speed. When we talk about low price, we mean that you will end up paying less money depending on the amount of bandwidth you use. The more bandwidth you use, the more money you will have to shell out.
See Plans and Pricing
Money-Back Guarantee
MaxCDN comes with a 30-day money-back guarantee, which means that you will have peace of mind. Suppose that you have some issues with the software, and you want a refund. MaxCDN will give you what you want right way, but you need to do this within 30 days. A money-back guarantee is great because you will tend to feel secure before buying any sort of product or service out there.
Speed Up Your App or Website
The main purpose of installing a software like MaxCDN is speeding up your app or website. You will be very proud of your virtual property when you install MaxCDN. Imagine what your visitors will think about the performance and speed of your website. They will congratulate the owner or owners of the website or app for having such a fast virtual property.
Excellent for vBulletin Sites
People owning vBulletin sites will be able to take full advantage of MaxCDN right away. They just have to create a pull zone, install vBSEO, and enter the URL of the CDN into the settings of the plug-in.
What We Do Not Like
MaxCDN comes with twelve global points of presence which is something small when compared to those of its competitors out there. But since most of the MaxCDN's users are located in America, they will not face problems of speed. The reason for this is that MaxCDN has a lot of servers in the United States, so they will be close to the location of their American customers. But the same affirmation is false for people living in Latin America, but since there are relatively few customers from this part of the world, the problems are not so high for most of MaxCDN's users. If you live in Latin America or Australia, you should consider a hosting with servers located in Europe or the United States in order for you to enjoy the speed that MaxCDN has in store for you. We also need to mention that the security measures of MaxCDN are not proactive, but you can solve this problem with its shared SSL which comes with a starter plan – you can even get your own SSL certificate at an extra cost. The content acceleration is basic, and you might not see some advanced features present in other CDNs out there.
Verdict
MaxCDN can be everything you need to speed up your apps or websites. WordPress users will find MaxCDN especially convenient for them because they will be able to integrate it easily into many plug-ins. MaxCDN is sold at an affordable price and its costumer support team is second to none – which is something important for most users out there. This content delivery network comes with a 30-day money-back guarantee that will provide you both peace of mind and security that your hard-earned money will be secure with the firm behind MaxCDN. The control panel will allow you to master each one of your domains in a simple, effective way. People who own vBulletin websites will be able to take full advantage of this content delivery network buying using a special plugin that is designed to give them what they want right away.
Get in touch with MaxCDN – Save 20% >>